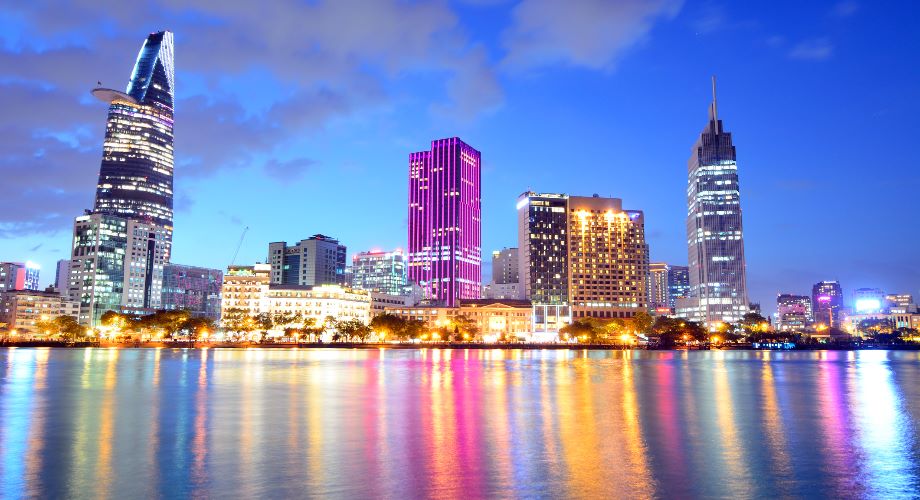 Source: Cathay Pacific
Vietnam is an amazing place. From my experience traveling there both for leisure and work to the major cities of Saigon (HCMC) and Hanoi, my breath is always taken away by the intensity of energy that the place exudes. It is a blend of rich culture, new and old, that has been honed over trying years of conflict, and excitement about the future. The contrast is huge – a skyline of towering skyscrapers among very much older and smaller alleys and shophouses, a cosmopolitan city growing at breakneck speed yet still retaining a lot of its colonial charm.
With a population size of close to 100M, a growing middle-class (according to BCG, growing from 15M in 2015 to 23M in 2020), GDP of ~$220M and a red-hot economy growing at ~6%+, Vietnam is now a lower middle-income country, and, with strong performing macroeconomic indicators, has been touted to be one of the key players and drivers of the Southeast Asia economy. The economy is driven by agriculture, construction, and manufacturing – labor-intensive sectors commonly associated with developing countries.
As with any other fast developing country, there should be a need to move towards a knowledge-based economy to sustain the clip of growth it has seen in recent years. The government is supportive of this. Although privatization started in 2011, it really only accelerated starting from 2016, under the current government led by Prime Minister Nguyen Xuan Phuc. At the 6th session of the 14th National Assembly opened in October 2018, he reiterated the country's commitment to accelerate administrative reform, improve on business conditions, ensure socio-political order and strengthen technology and innovation – all crucial to developing the investment landscape.
Current Investment Sources and Volume
With relative stability, a fast-growing and promising economy, investment dollars have followed. Reportedly, in the first six months of 2018, total newly and additionally registered capital and capital in M&A by foreign investors was ~$20B, across multiple economic sectors. Malaysia-based investment fund Creador announced its plan to open an office in Ho Chi Minh City and dedicate investment dollars into Vietnam, while Warburg Pincus, KKR and TPG have all made significant investments in the country.
Venture capital fund inflows seem to not be on a similar pace and the landscape is arguably at a budding stage, with strong positive signs of development. Topica Founder Institute, a startup accelerator firm, reported that ~$889M was invested in Vietnamese startups in 2018 (with Fintech, eCommerce and Traveltech attracting the most investment dollars), up ~3x from $291M in 2017, although the number of deals remained flat at 92 (48 of which in the pre-seed and seed stage). It is interesting to note also that 500 Startups (500VN)'s investments equate to ~20% of the total 92 deals made in 2018.
Vietnamese Startups Have The Potential
There have also been startups that are arguably neck and neck with global comparables at a technology level. One such example is Momo, an e-wallet and payments app which in 2016 raised $28M from Standard Chartered and Goldman Sachs. I personally tried it and am very impressed by the use cases (buying movie tickets, money transfer, bill payment etc.) on the app, albeit disappointed that one needs to link a Vietnam-based bank account to use it, and physical merchant acceptability, while decent, is not fantastic or sticky enough to me. Another example is GoViet (Go-Jek partnership), which is a huge challenger to Grab in the bike-hailing and food delivery space.
Another is Moca, a mobile payment app that signed a partnership with Grab in September 2018. The partnership seems to be a mutually beneficial one, as Grab will be able to benefit from adding the many use cases and partner networks already on Moca (e.g. bill payments, airtime top-up) as well as access to the many physical merchants (e.g. 7-11), building on their goal of becoming an "everyday super app". Moca, on the other hand, will stand to benefit from getting access to what is the largest mobile private vehicle hire network in major cities in Vietnam. Grab users will have an e-wallet on their Grab app, branded "GrabPay by Moca", which they can easily top up through the app and use for payments for Grab services. They can also make direct cashless payments for Grab services using debit or credit cards (passthrough transactions). Grab also in January 2019 started rolling out, on a large scale, merchant acceptance (e.g. bubble tea shops).
The Startup Landscape is Budding, with Government Support Kindling the Effort
In 2016, the inaugural Saigon Tech Startup Fest took place, although unfortunately, it seems that that was the first and last. More recently, riding on the wave of popularity of blockchain and cryptocurrency, the Vietnam Blockchain Week took place in March 2018.
Despite verbatim from government and across the press that the country is increasingly startup-friendly, it seems that the on-the-ground situation speaks a different tale. As with startups in other fast-developing countries, some huge challenges include attracting the right talent, getting the operational support that they need as they scale, and getting access to investors and raising funds from them. However, the situation might not be that bleak.
On the government front, technology startups might have a leg up from the government's focus on the sector. In 2015, the government approved a master plan on developing hi-tech parks by 2020 and a direction by 2030, which will see the development of three new high-tech parks in the country. This will hopefully encourage greater technology development in the country and importantly, attract and retain technology talent that is critical to the building of the startup landscape, something that is not a mean feat given that salaries are still reportedly 40% less than in China or India, despite a significant increase in recent years.
The government also marked 2016 as the national start-up year and put in place a "National Programme for Supporting an Innovative Start-up Ecosystem through 2025". As part of this initiative, by 2020 the legal system and a national e-portal for startups will be developed to provide support to 200 startup enterprises, 50 of which will be able to lure investment from venture investors or get involved in merger and acquisition deals of a gross value of around VND 1 trillion (~$40M).
In addition, the Hanoi's People Committee set up an online platform, startupcity, which aims to connect startup ecosystem players – investors (capital), tech startups, and corporate innovation programs. It also aggregates news (albeit quite dated) and information on the Vietnamese startup ecosystem.
Beyond Hanoi and Saigon, Da Nang has also been touted to be one of the most entrepreneur-friendly cities. On the human talent front, it boasts one of the top technology universities in Vietnam, Da Nang University of Science and Technology. In infrastructure, it has had heavy government investments in a new $60M airport and a $93M highway system. Large corporations have shown confidence in the city, for example, IBM which set up its third office in Vietnam there.
That said, there have been times when the communist government showed its autocratic side, with the shutdown of Facebook and crackdown of human rights activists during then-president Obama's visit as well as threats to "manage" popular chat apps like WhatsApp.
How VC Can Be, and Has Been, Helpful
All that said, venture capital can be extremely helpful for the entrepreneurial landscape, particularly in the form of providing the operational support that the startups need and getting access to early/growth capital in a country which does not have a relatively sophisticated credit scoring and loans system.
For one, global investors can potentially be helpful with scaling and expansion beyond the local market. Vietnam, despite being a fast-growing economy, is still a relatively small market. Expanding beyond not just the country and Southeast Asia could be crucial and extremely beneficial. For example, FastGo is said to be planning to enter the ride-share markets in Brazil and the U.S. this year.
For startups that are still focused on the local market, an investor can help tremendously with scaling. This does not have to come in the form of institutional capital/professional alternative asset funds. An example would be a corporate investment like the aforementioned Grab, which can also help with providing operational expertise and achieving scale fast. Grab also has its Grab Ventures arm, which aims to "partner dynamic startups to help them develop and scale technologies". Another such example is JD.com's investment in Vietnamese online B2C retailer Tiki in early 2018, likely to have contributed to it surpassing Lazada to be the number 2 site in traffic in 4Q18.
Conclusion
The transformation and achievements of the Vietnam economy in the first 30 years of economic renovation (Doi Moi) from 1986 to 2016 has been eye-popping and breathtaking. Speaking to Vietnamese friends, I always sense a deep belief in the future of the country and eagerness to take advantage of the growth of the country and region, and a strong entrepreneurial mindset. Yet I believe the best is yet to be and am excited about what the future entails for this amazing country. Besides Flappy Bird which put the country and entrepreneurship into the spotlight in 2015, I am sure there are much, much bigger things to come.
Players in the space
IDG Ventures Vietnam: One of, if not, the earliest VCs in Vietnam having been established since 2004
500 Startups: Has, as of November 2018, invested $3M in 36 Vietnamese companies and closed a $14M Vietnam-focused fund in November 2018. Investments include Leflair, Panya and Turing
VinaCapital Ventures: Seeded by VinaCapital Group, VinaCapital Ventures is a $100M Vietnam-and-technology-focused venture capital platform
VIISA (Vietnam Innovative Startup Accelerator): an accelerator program and seed stage fund, co-founded by FPT and Dragon Capital, that will invest $6M to build global-ready startups in Vietnam
Topica Founder Institute: A regional startup accelerator which graduated a number of startups including Monkey Junior (language edtech) and Appota (mobile content distribution platform) and Kyna (edtech).
Ventures CyberAgent: VC fund from Japan, with investments including VNG, VMG, Vietnam Price, VGame, Baokim, CleverAds, Green Mobile, NhacCuaTui.com and ColorBox
ESP Capital: Investments include Ecomobi (social selling platform), Luxstay (short-stay online rental), WeFit (fitness studios connector) and canavi (job matching platform for women)
Cocoon Capital: Singapore-based, tech-focused fund which raised $20M in December 2018, targeting seed-stage startups in emerging economies such as Vietnam, Myanmar, the Philippines and Indonesia
Mekong Capital: Almost more like a traditional PE fund, focusing on consumer-driven businesses and targets investments ranging from $8-15M
Startup Viet Partners: Newly form VC with $5M debut fund in 2018, to focus on Business-to-Business (B2B) and Business-to-Business-to-Consumer (B2B2C) sectors, specialising in tech solutions for SMEs and corporations
What are the latest VC fundraises in Indonesia / funds recently mentioning a focus on Indonesia?
Further reading